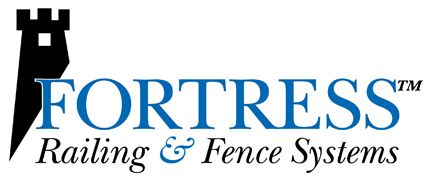 FORTRESS RAILING PRODUCTS

Fortress Railing Products is committed to developing innovative, quality products specifically for the railing industry.  It is very proud of its vast distribution network, commitment to code testing, innovative product design and the strength of the Fortress Railing Products brand.   As a respected category creator and industry leader, Fortress Railing Products offers a complete line of railing solutions that encompasses 6 distinct categories. Whether your needs are for residential, multi-family or commercial railing, Fortress Railing Products has the right railing solution to meet your needs.
FORTRESS FENCE PRODUCTS
Fortress Fence Products, a subsidiary of The Fortress Company, is solely focused on developing, manufacturing and marketing innovative products specifically for the fence industry. Its diverse product offerings, superior coating and quality manufacturing have led the fence industry towards improvement and advancement. Fortress Fence Products offers a complete line of fence solutions for any residential, commercial or industrial project needs.
Versai™ Fence sets a new and unmatched standard for adjustable ornamental fence. Using proprietary technology in both functionality and coating, Fortress Versai™ Fence offers extreme versatility for grade changes and unrivaled exterior coating for weathering the elements.
Classic Premium Welded Fence by Fortress is an easily customized version of a traditional welded fence system that brings unparalleled quality to the category.
Titan Architectural Fence by Fortress is designed and manufactured to meet the stringent requirements of commercial and industrial architects and federal specifiers. Titan by Fortress offers strength, precision and durability combined with an attractive appearance. Whether your needs are for residential, commercial or industrial fence, Fortress has the right product to meet your project needs while providing beauty, strength and durability.
20 Year Limited Warranty on Fortress Fencing
Please contact one of our sales representatives for more information on any of our Fortress lines.